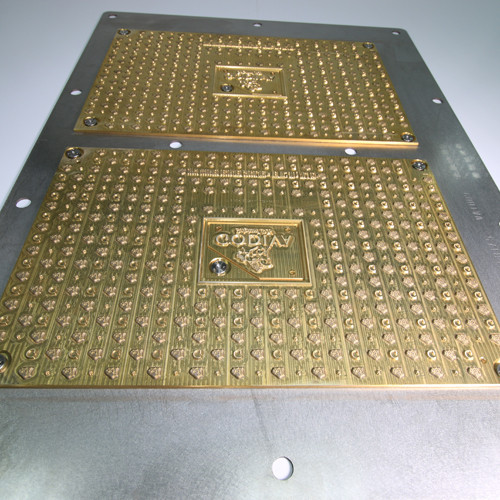 The Lasercomb Time saver thin plate system (renamed by one of our clients as Time saver) has been developed with our Die tooling business in mind where it is very common for us to pre-mount counter matrix onto a thin cutting so has evolved into our Embossing foiling business.
We can very accurately pre-position foiling & embossing dies in position to the clients file supplied resulting in many instances where the foiling dies do not require moving saving valuable on press time, the dies remain in position on the thin plate and are safely stored on the transit board we supply.
Designed and engineered by the Lasercomb Group the Time saver thin plate system reduces expensive make ready times and increases machine performance so more time foiling rather finding position.
Through superior manufacturing and know how we offer the most durable tooling system available for regular repeatable production.
The Laser-plate presents pre-positioned foiling and embossing Dies on a Thin Plate system offering flexibility and great value for money.
Fine & very accurate adjustment can be made using our micro adjustment system if dies need to be slightly adjusted due to sheet or print variation.
Used in conjunction with our time saving and accurate spring location systems, considerable cost saving are enjoyed by our clients making the right choice.