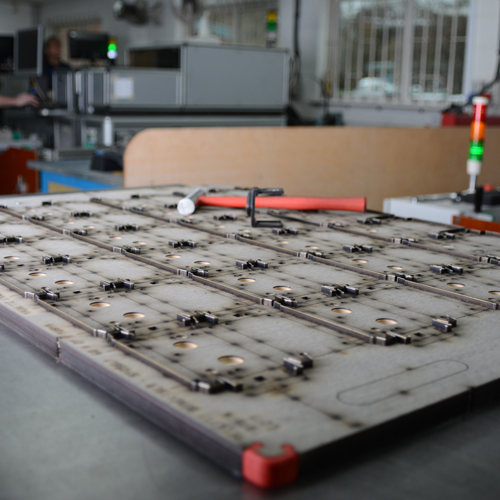 Cutting dies are at the heart of the Lasercomb offer. Our quality die tooling, precision made for the cutting and creasing press, is designed to minimise make ready times and give maximum machines speeds. All cutting dies are engineered to customers' exact needs. Our range of cutting dies are made to exacting standards. We combine lead edge technology with a wealth of know how and experience to ensure our cutting dies meet you exacting standards.
LasercombCutting Dies – These are tailor-made to exact requirements by understanding our customers' needs to help develop the right specification at the right price.
LasercombBroached Dies – Are more consistent and durable, reduce both patching up and on press die maintenance and reduce de-lamination.
Key Benefits
Tailor made to exact customer specifications.
The latest high speed ejection rubbers applied.
Dies Pre-nicking saving valuable on-press time.
Broached Dies Give cleaner stripping action and eliminate de-lamination on slit locks.
Broached Dies Reduces on press die maintenance as there are less joints
Broached Dies Give greater consistency through less patching and longer die life for cost effectiveness.
Technical Features
Lasercomb Cutting Dies all tailor made to customers' exact requirements.
Use latest technology, innovations and applications.
Precision manufactured for optimum performance.
Pre-nicked dies to customer specifications further reducing valuable make-ready times and ensure nicking is conducive to accurate stripping and blanking on press.
Cutting dies are rubbered to a press ready standard using the latest high speed rubbers.
Lasercomb Broached Dies for longer tool life.
Reduced de-lamination on slit locks.
Assist with a cleaner stripping action.
Reduces the number of joints in the die resulting in less down time on press due to die maintenance.
Cuts down patching up as the die is more consistent and more level.
The best Cutting Dies incorporating the latest cutting rule and rubber technology are available only from Lasercomb.