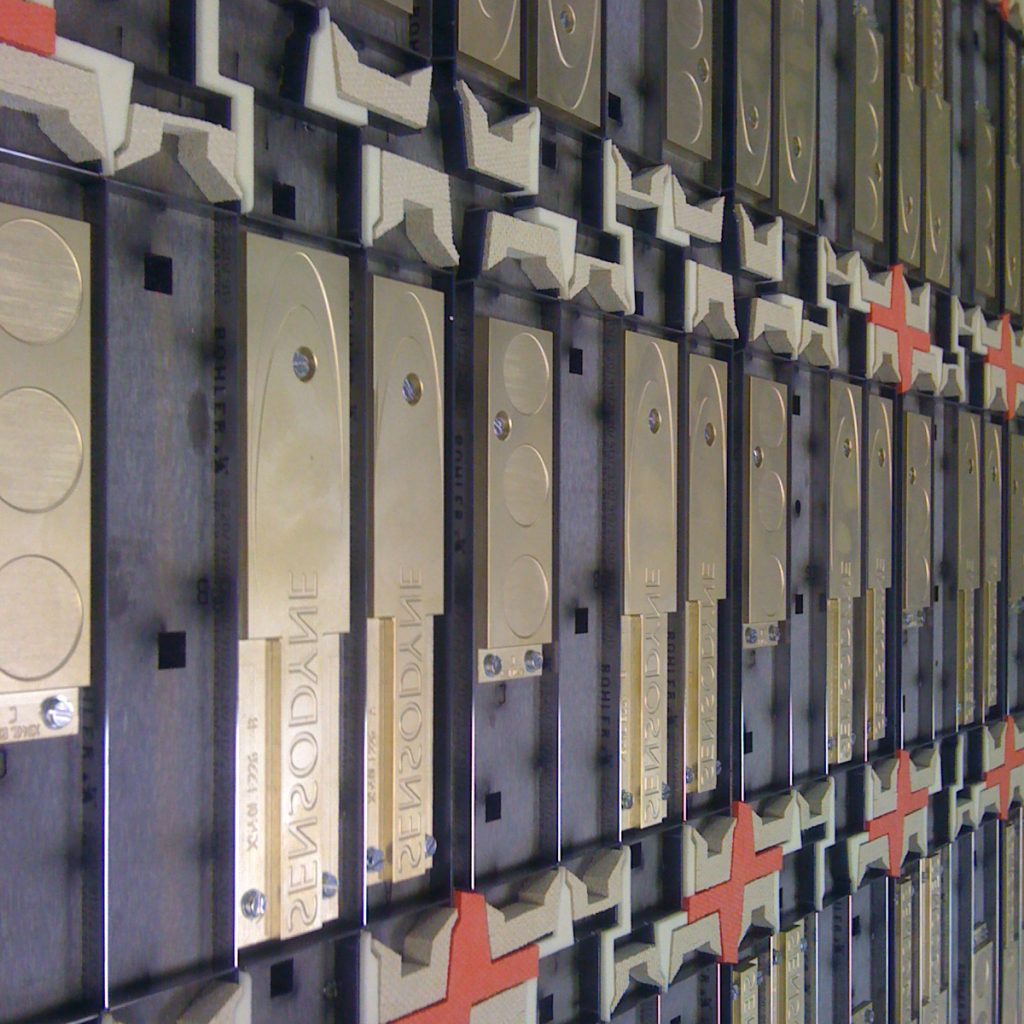 Are long expensive make ready times an issue?
The Lasercomb Group have the solution with the Fast Fit Embossing System.
 The system, exclusive to Lasercomb Group comprises of a CNC engraved mounting base and embosser with pre locators and can be manufactured to customers specific requirements.
Fast Fit is flexible as it is replaceable and transferable. It cuts costs reduces spoilage and improves make ready times.
"Press ready tooling solutions made to our individual customer's specifications"
Our experienced Customer Services Team will assist with your enquiries and find the best solution whatever the application.
The Lasercomb Group make it their business to know the markets they serve.
Let the Lasercomb Group become your preferred supplier
Lasercomb have perfected the art of combining embossing within a cutting die enabling us to manufacturer tooling in a single pass that has not previously been available. A combination of design & technical know-how and by bringing our latest cutting die and embossing technology together gives Lasercomb clients a significant competitive advantage taking orders that were previously two pass through the machine down to a single pass.
Key Benefits
Lasercomb Single pass tooling –  Tailor made to exact client specifications.
Lasercomb Shim dies Allows our customers to cut intricate and detailed shapes and designs.
Lasercomb Shim dies Offer excellent longevity.
Lasercomb Shim dies Full in-house advice and on press technical support is available.
Lasercomb Reverse score Can be fully integrated into one of our lasered cutting dies to allow for a single pass process.
Technical Features
Lasercomb Shim dies Chemically etched and then CNC machined to create a sharp cutting profile.
Pre – mounted onto a Rayform base blocks machined to a pre-determined height.
Can be pre – nicked to ensure that very fine cut areas remain within the product.
Can be integrated into a regular lasered cutting die.
Effective for all materials up to and including 550micron.
Pre – positioned rubber pockets are included to assist with ejection.
Shim cutting dies are available only from Lasercomb