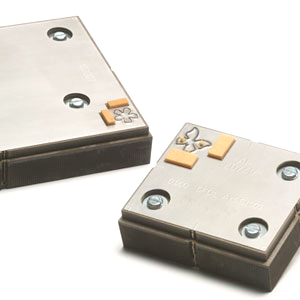 This system is unique to the Lasercomb Group and enables highly detailed designs to be cut accurately. The shim is chemically etched and CNC machined for the give the ultimate in precision cutting. They can be pre-mounted on a dedicated block and inserted into a single pass laser cut wooden die and then used for a range of application s including Greeting cards, complex carton apertures and the gift wear industry to name but a few. These are tailor made to exact requirements based upon our client's designs and combining our innovation; know-how and the very latest machining techniques.
Key Benefits
Lasercomb Shim dies Tailor made to exact customer specifications.
Lasercomb Shim dies Allows our customers to cut intricate and detailed shapes and designs.
Lasercomb Shim dies Offer excellent longevity.
Lasercomb Shim dies Full in-house advice and on press technical support is available.
Lasercomb Reverse score Can be fully integrated into one of our lasered cutting dies to allow for a single pass process.
Technical Features
Lasercomb Shim dies Chemically etched and then CNC machined to create a sharp cutting profile.
Pre – mounted onto a Rayform base blocks machined to a pre-determined height.
Can be pre – nicked to ensure that very fine cut areas remain within the product.
Can be integrated into a regular lasered cutting die.
Effective for all materials up to and including 550micron.
Pre – positioned rubber pockets are included to assist with ejection
Shim cutting dies  are available only from Lasercomb