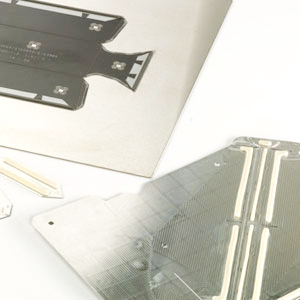 As with all of our tooling systems our range of reverse score plates are manufactured from within our facilities and exclusively by us in the UK so our customers can enjoy all the benefits that this brings including technical know-how, lead-times, costs and technical support.
Developed to support tamper evident packaging which is becoming ever more important when protecting the product and in times when counterfeit goods are significantly on the rise, the system creates a secure opening device which many leading everyday brands are switching over too. The Lasercomb system can incorporate crease channels and act as the cutting plate as a result of the high quality materials being used; in addition this offer excellent longevity.
The system is tailor made to exacting requirements based upon our customers packaging designs and combining our design; know how and very latest machining techniques.
Key Benefits
Lasercomb Reverse score Tailor made to exact customer specifications
Lasercomb Reverse score Designed and manufactured in-house enabling us to offer the shortest lead-times in the industry.
Lasercomb Reverse Score Offer second to none longevity.
Lasercomb Reverse score Full in-house advice and on press technical support is available.
Lasercomb Reverse score Can be fully integrated into our counter matrix or New Wave steel plate systems .
Lasercomb Reverse score Has been applied to many leading Brand packaging designs.
Technical Features
Lasercomb Reverse score plates Machined in 50 Rockwell steel delivering second to none longevity.
The plates can act as a cutting plate surface dependant upon the design.
Creasing channels can be machined into the reverse score plates again dependant upon the design.
The plates can be pre-mounted into counter matrix and New Wave steel plates.
Alternatively plates can be pre – mounted onto a range of compensation plates.
The best Reverse score plates are available only from Lasercomb