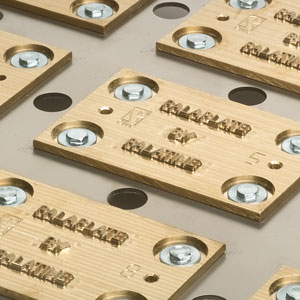 Designed and engineered by the Lasercomb Group the Laser-plate system reduces expensive make ready times and increases efficiency.
Through superior manufacturing and know how we offer the most durable tooling system available for regular repeatable production.
The Laser-plate presents pre positioned Foiling and Embossing Dies on a Thin Plate system offering flexibility and great value for money, enhanced machine performance and excellent finished results.
Used in conjunction with our time saving and accurate spring location systems, considerable cost saving are enjoyed by our customers making the right choice.
Fast Fit Embossing System
Are long expensive make ready times an issue?
The Lasercomb Group have the solution with the Fast Fit Embossing System.
The System, exclusive to Lasercomb Group comprises of a CNC engraved mounting base and embosser with pre locators and can be manufactured to customers specific requirements.
Fast Fit is flexible as it is replaceable and transferable. It cuts costs reduces spoilage and improves make ready times.
"Press ready tooling solutions made to our individual customer's specifications"
Whatever the individual requirements the Lasercomb Group have the answers.
Our experienced Customer Services Team will assist with your enquiries and find the best solution whatever the application.
The Lasercomb Group make it their business to know the markets they serve.
Let the Lasercomb Group become your preferred supplier