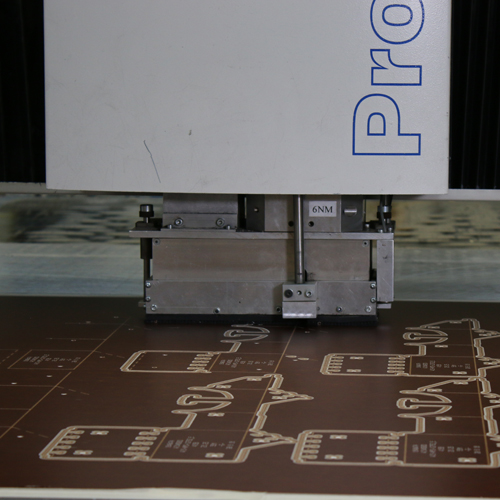 Our range of counter matrix systems are manufactured to the highest tolerance so to maximise the on-press performance and deliver consistent and high quality creasing.
They are designed to complement our range of Braille embossing systems to improve make-ready times from one Braille variance to the next whilst retaining their integrity. Lasercomb will pre-determine the most effect counter matrix specification dependant on the substrates being converted.
LasercombPertinax Counter Matrix – Each set are individually designed to the one on profile and eliminate the need for on press handwork. Furthermore Lasercomb has the ability to pre-mount the matrix in position across a range of machine sizes from B2 (760mm) right through to Size 6 (1420mm) saving valuable on-press make-ready time.
LasercombBrass Counter Matrix – The ultimate in counter matrix; Lasercomb can manufacturer via our CNC technology brass counter matrix for the regular repeating and  long running production order.
Counter Matrix are a key ingredient to Lasercomb press ready culture. From the standard durable and cost effective Pertinax counter matrix through to the CNC manufactured brass system.
Key Benefits
Lasercomb Counter Matrix Individually designed to suit the 1on design and the substrate being converted.
Lasercomb Counter Matrix Available in standard Pertinax material or a harder wearing 2 x2 material.
Lasercomb Counter Matrix Designed to eliminate any on press handwork.
Lasercomb Counter Matrix Compliment the complete Lasercomb range of Braille force systems from Fast-fit, Slide-fit and Magnetic fit.
Lasercomb are able to pre-mount Counter matrix directly onto a thin cutting plate from B2 though to Size 6 formats saving valuable machine time.
Lasercomb Counter Matrix offer accurate & consistent registration to the cutting die.
Technical Features
Lasercomb Counter matrix all tailor made to achieve consistent and accurate creasing quality.
Counter matrix are available in increments of 50 microns.
Double sided adhesive applied as standard.
Customised channel widths & depths to suit dependent upon substrates being converted.
High quality chamfering program is applied to all sets.
Available with the Fast-fit Braille system, Slide-fit Braille system & our Magnetic Braille system.
Pre-mounted counter matrix service available on 760mm / 1020mm / 1040mm / 1420mm .