New Wave Dies & Plates
An evolution in flat-bed die tooling the system combines a high precision cutting die and CNC machined steel plate previously only viable on Web-fed production lines.
Due solely to Lasercomb design and product innovation all the key features and benefits of this high end tooling solution are available to the sheet-fed converters. This high end tooling system is designed to deliver improved production speeds both on-press and downstream whilst enhancing the quality of the finished product.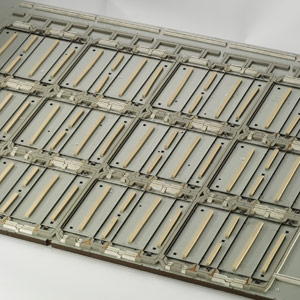 Lasercomb NewWave Tooling System

– A revolution in flatbed tooling that matches and improves tooling that was only previously available and viable for Web-fed presses, yet at more commercially acceptable price..

Lasercomb NewWave

– Offers quick and accurate make readies in conjunction with faster machine speeds.

Lasercomb NewWave

– Delivers very consistent and high quality creasing.

Lasercomb NewWave

– Down stream benefits included improved gluing line and automatic packing line performance.

Lasercomb NewWave

– Can be combined with and incorporated Lasercomb Dies reverse scoring and CNC embossing systems.

Lasercomb NewWave

– Through Lasercomb Dies tooling design & innovation; production jobs that were previously a two pass process can be now be produced much more efficiently in a one pass process.
This value for money system is exclusive to Lasercomb. It uses new, innovative materials: and combines a high precision die and a CNC machined steel plate for both Wed-fed presses and Sheet-fed Die-cutters.
Key Benefits
NewWave

High quality production at commercially viable prices

NewWave

Generates faster machine speeds

NewWave

Improves gluing line and automated packing line performance

NewWave

For consistent creasing time after time

NewWave

Gives flatter blanks and faster make-readies
NewWave

Chromed plates are included to further enhance longevity.

NewWave

Plates and dies are available in a range of thickness

NewWave

Tooling sets are tailored to your individual specification.

NewWave

Reduces the variables for a consistent output

NewWave

Sole UK manufactures from within our own facilities

Technical Features
The die-board materials allow for multiple re-rules.
CNC machined plates are available in a range of sizes from 650mm to 1600mm and also in thicknesses from 1mm – 5mm
A combination of compensation plates supplied to suit the above if required
A chroming service is available to further enhance longevity
NewWave Tooling System areavailable only from Lasercomb