Force Plates
The Lasercomb Group offer the most extensive range of force plates in the industry.
Quality made counterforces are supplied for all types of Embossing tools and Foil Embossing tools.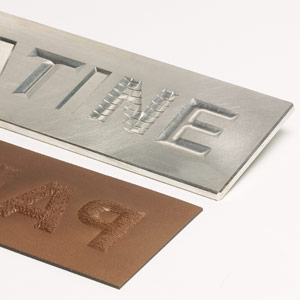 KV Laminate Forces – superb for every day embossing and debossing for short to medium run lengths.
Hard Face KV Force – shares the successful properties of our KV laminate with an additive in the contact area to improve longevity
Bakelite Forces – another alternative to our popular KV Laminate, but with improved longevity.
Made-Away Forces – available in most of the above versions, but they lift the emboss image off the carrier to reduce the risk of background marking and bruising.
Hot Epoxy forces – Excellent for use with our Fluted Foiling dies, reducing valuable press make-ready times.
Cold Epoxy Forces – an additional alternative to our standard KV force, but with improved longevity.
Brass Forces – a premium product manufactured the our CNC process offering durability and precision. These are available for Fluted Foil tools, Braille, emboss and deboss applications.
Magnestic Forces – reduce make-ready times involved in mounting traditional forces .
Clean, efficient and cost effective technology
Whatever the application, or requirement, we have the ideal solution.
All our forces offer excellent fit in a variety of materials to suit each specific job.
Our forces are machined to a specific combined height to achieve optimum press performance and reduce valuable make-ready times.
We have developed an accurate location system to further save costs in reduced make-ready times.
Customer choice is the envy of our competitors. Please contact us for specific information on your requirements.