Flat & Fluted Foiling Dies
The Lasercomb Group are able to supply Hot Foil Stamping Tools in Magnesium, Copper and Brass to meet all our customer's requirements and applications.
With our diverse manufacturing processes we are able to offer consistent, quality, precise foiling tools and excellent leadtimes.
Flat foil stamping brings quality and distinguished finish to any project.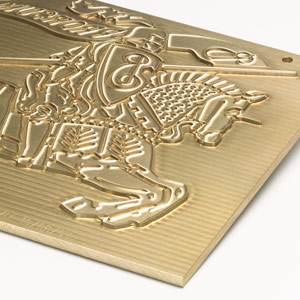 Flat Foiling Dies

– With our impressive machine capacity we are able to manufacture flat tooling to a very high standard and can offer a same day turnaround when required.
Whether chemically etched or CNC machine cut, all our tooling is subject to a strict quality control system to ensure high performance and capability.

Fluted Foiling Dies

– Also referred to as combination dies, these tools allow an image to be foiled and embossed in a single machine pass.


This helps reduce waste and avoid miss-registration between two press passes.
In addition to reducing time and cost all our Fluted dies are supplied with Counter forces and register location pins, saving valuable make-ready time.
A skilful amalgamation of all our processes allow textures to be incorporated within the emboss detail in our Combination Dies.
Sculptured Foiling Dies – Stunning images can be achieved from our 3D foil / emboss dies.
Our engravers create that "look & feel" effect through artistic interpretation.
Through precision, quality and reliability our Foiling Dies assist our customers to achieve outstanding effects raising brand awareness, added value and elegance to many consumer brands.
Our technicians use their knowledge and experience to achieve the optimum effect on many different substrates.
Use our skills and ability to add value and quality to any printed project.
We work with our customers offering advice and support to assist them achieving the greatest possible results.
Excellent delivery performances and competitive pricing make The Lasercomb Group the obvious choice for quality tooling.