Braille Embossing
EVERY impression counts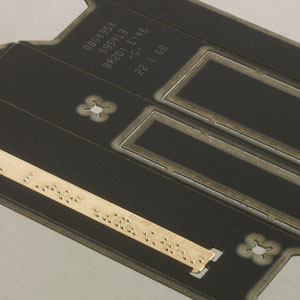 Pioneered by Lasercomb Group, with our unique electronic checking system for end user safety, we provide a range of press ready Braille systems including a magnetic Braille option for carton designs which have multiple Braille variances.
Lasercomb Group has been at the forefront of tooling development for inline folder gluer rotary Braille systems notably for the Bobst Accu-Braille and the Cava-Rotobraille systems. All of the tooling enables blind and partially sighted consumers to "read" product descriptions and usage instructions on products.
Developed initially for pharmaceutical use, Braille Embossing is designed for use on all carton and label based products to help open up markets for the disabled....and keep them informed and safe!
Lasercomb Braille systems – These are tailor made to exact requirements with a range of options and specifications available to suit your individual requirements. All our male forces and female blocks are CNC machined to give our customers a first class dot shape and profile in their finished product. The tooling systems are designed to reduce make-ready times and enable fast change over from one Braille variance to another.
Key Benefits
Lasercomb Braille tailor made to exact customer specifications

Designed to give Lasercomb Braille Fast - fitquick and accurate registration between the male & female tool locating within the counter matrix

Lasercomb Braille Slide - Fit  Enables both fast change over from one Braille variance to another whilst offering the added security of the slide – fit force and counter.



Lasercomb Braille - Magnetic For designs with multiple Braille variances this system allows for fast Braille force changes & works in conjunction with standard counter matrix.

Lasercomb Accu-Braille  Our CNC machined force is designed to work in conjunction with the Bobst Accu-Braille system and produce a high quality dot.

Lasercomb Roto-Braille Our CNC machined male & female tool is designed to work in conjunction with the Cava Roto-Braille system producing a high quality dot. effectiveness



Technical Features
Lasercomb Braille systems - A combination of our design; innovation and our CNC technology enables us to tailor Braille heights & dots profiles to give our customers the exact Braille dot shape they require.
Pre- positioned into our cutting dies to allow for single pass die-cut Braille embossing
Our systems minimise make-ready times for designs with multiple Braille variances.
A Digital checking system is applied to all male forces to ensure that our tooling complies with our customer's files.
An inspection sheet is supplied with all forces.
A standard visual inspection is also undertaken
A range of dot shapes is available including domed, conical and flat-top.
Based upon the new European standard for finished Braille dot heights we have developed a system that generates a high dot whilst removing the signs of bursting on the board surface.
The best Braille embossing systems are available only from Lasercomb