Blanking Tools
Lasercomb Dies range of blank separating systems are truly unique within the die-making industry.
Every top and bottom tool is individually designed to suit the production layout. Bespoke manufacturing enables Lasercomb Dies blanking systems to minimise on press make ready times and maximise on press production speeds whilst delivering undamaged clean; presentable and fully separated items.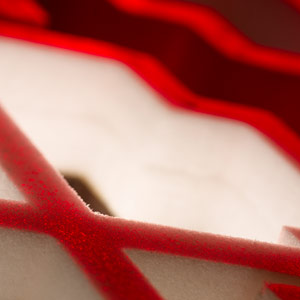 Lasercomb

Blank Separating Systems

are yet more Lasercomb innovations for blanking layouts which were previously thought unsuitable for blank separating. Our design and technological development in blank separating has meant that the blanking process is now far more accessible to many more companies than before.
Lasercomb

Easy-Grid

A system tailored to suit layouts that are in line or have a slight step.
Lasercomb

Laser-Grid

A system tailored to suit complex double and single cut layouts where the design is turned and interlocked or contains complex waste areas.
Lasercomb

Wire-Grid

A system tailored to suit single cut sleeve or card layouts
Lasercomb

Outrigger-Grid

A system tailored to suit double cut sleeve layouts and very small RTE or OTE single cut layouts.
Lasercomb

Flexi-frame

A revolutionary lower blanking frame system that significantly reduces the cost of blanking
Lasercomb

Light top blanker

A CNC machined top tool that is light weight & operator friendly offering improved accuracy and performance


Blanking systems What ever your blank requirements Lasercomb will have a fit for purpose solution.
Key Benefits
Lasercomb

Blank Separating Systems

Tailor made to each layout & die-cutter specification
Lasercomb

Blank Separating Systems

Blanks layouts previously thought unsuitable to blank
Lasercomb

Blank Separating Systems

Four styles of system to suit your blanking requirements
Lasercomb

Easy-Grid

A system to suit layouts that are inline or have a slight step
Lasercomb

Light top blanker

Improved accuracy and durability

Lasercomb

Laser-Grid

A system to suit complex double and single cuts where the design is turned and interlocked or contains complex waste areas
Lasercomb

Wire-Grid

A system tailored to suit single cut sleeve or card layouts
Lasercomb

Outrigger-Grid

A system tailored to suit double cut sleeve layouts and very small RTE or OTE single cut layouts.
Lasercomb

Flexi-frame

Designed to reduce the cost of blanking to our customers whilst retaining the vital integrity required

Technical Features
Lasercomb Blank Separating Systems are tailor made to customers' exact requirements

Manufactured from the latest technology, materials innovations and design

Precision manufactured for optimum blanking performance

Each tool is designed to meet the exact needs of the blanking layout to optimise the die cutter performance

Easy-Grid A lightweight but durable lower blanking tool system designed for in line or slightly stepped layout blanking and fabricated from laser-cut bars

Laser-Grid A robust and virtually unbreakable lower blanking tool for complex double and single cut work and turn layouts laser or water-jet cut and constructed from a solid sheet of steel

Wire-Grid A system tailored to suit single cut sleeve or card layouts

Outrigger-Grid A system tailored to suit double cut sleeve layouts and very small RTE or OTE single cut layouts.


Flexi-frame A single fully universal frame which can incorporate any of the Lasercomb Grid systems with only one frame per machine being required resulting in a reduction the cost of the lower blanking tool

Light top blanker CNC machined from a high density foam and backed with a laser cut sheet.

Training and technical support available for CAD designers, estimators and machine operators